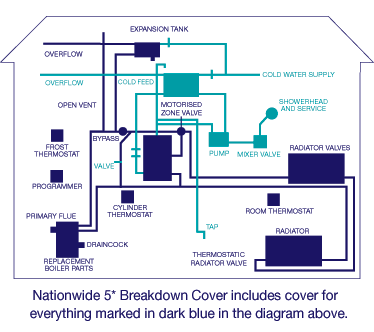 An annual system & safety check
Ongoing £50 cashback each year you don't make a claim
Unlimited call outs and 24 hour, 365 day cover by our own Gas Safe Registered engineers
All parts and labour for your boiler and central heating if the following parts of your system break down*:

Time clock or programmer.
Any boiler repairs.
Pump faults.
Control systems including timers and thermostats.
Radiators.
Radiator valves.
Central heating pipe work.
Hot water supply faults.
Hot water tanks.
Central heating header tank.
Motorized valves.
£50 cashback every year that you remain claim free.
Eligibility
The Nationwide Gas Care 5 Star Plan is only available to new boiler owners who apply within
7 years
of the installation of a new high efficiency boiler from a reputable manufacturer. This enables us to keep our costs permanently low.
*see Terms & Conditions for more information
Major exclusions*
Pre-existing faults at the time of taking out the policy including system design faults or inaccessible components.
Faults caused by the failure of gas, water or electrical supply services or consumer negligence.
Any faults caused by sludge or blockages.
The cost of decorating parts, casings, paint work, batteries, bulbs, enamel, wood and any damage which does not prevent the functioning of the appliance.
Damage caused by; freezing weather conditions, lightning, fire, explosion, storm, flood, changes to or failure of electricity, gas and water supplies.
Drains
*see Terms & Conditions for more information
Whats included in your Annual System & Safety Check?

Our rigorous safety and service check will ensure your system is in safe, tip-top condition and will include:
A full visual inspection where practicable
A general check of overall operation of the system
Check flame failure device for correct operation
Check operating pressure
Check operation of the flue
Carry out soundness test of gas installation
Clean burners, injectors, combustion chamber and flueways as required
Check ventilation
Carry out combustion test using telegan
Carry out check for water leaks where practicable
Visual check on related wiring
Check operation of gas valve
Check all controls
The engineer will leave your premises in a clean and tidy condition and request your signature on the completed job sheet.
Any remedial work required, would have to be carried out at your own cost (first service visit only).
After your comprehensive safety inspection, Nationwide Gas Care 5 Star Breakdown Cover gives you:
A FREE 24 hour breakdown helpline
No call-out charge
No replacement parts charges
No labour charges
Complete peace of mind